About Advent Episcopal Church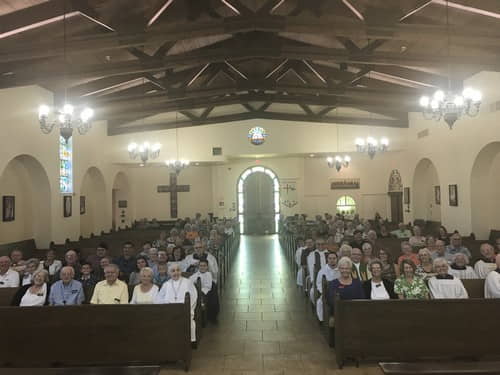 Advent Episcopal Church is situated in the heart of Sun City West, Phoenix, AZ. We welcome all those in our neighborhood (Luke 10:25-37) to come and join us as we worship Christ, and outreach into His harvest field (Luke 10:2).
We are an inclusive Christ-centered community reaching out to individuals and families who are seeking a deeper relationship with God, and one another. We enjoy the dedicated services of clergy, staff members and volunteers who help fulfill our mission, and we welcome you to join us.
The members and friends of Advent Episcopal Church welcome all persons, regardless of ethnic heritage, religious backgrounds, etc.
Our Mission:
Creating a Christ- centered community through worship, generosity, and serving others – transforming lives by spiritual growth, caring for one another, and sharing our journey.
Our Vision:
Fewer lonely people, fewer hungry people; more peace, more joy and love in the lives of those we serve.
To all who enter Advent – to those who are weary and need rest, who mourn and need comfort, who pray and those who do not, who sin and need a savior, who rejoice and wish to praise, who are blessed and wish to serve – to all who enter, Advent opens wide the doors and says in the name of our Lord Jesus Christ:
Come & join us...
Perhaps you are seeking a new place to worship. We celebrate Holy Communion at all of our worship services. Sharing Christ's body and blood is at the heart of our worship experience.
Many members of our Parish Family are active and involved in our service. Our Lay Eucharistic Ministers read the lessons and serve the chalice. They also take communion to Parishioners who are shut in and cannot attend church.
We are friendly and active...
There are many ministries and activities for you to be involved in if you decide to become a member at Advent. Take a few minutes and review the Ministries section of this website. You will note that there are several areas in which you can become involved.
We also have many different social activities for our Parish Family. Included are Men's and Women's golf, great concerts throughout the year, celebrations of major holidays for those who are alone, our annual Spagetti Dinner, Pancake Supper (Shrove Tuesday) Mexican Dinner, annual Fashion Show and Rummage Sale. Check out our Upcoming Events. There is something for everyone at Advent.
Come, join us, and expand your Faith experience, while having a positive, rewarding addition to your life!
To learn more about the Episcopal Church, click here.
Check out this video of our campus
Take a fun look at our campus as the camera pans around our church buildings.
Get a better view of our property with dramatic aerial photography and bird's eye views.
We invite you to enjoy this trip!